The Ultimate Guide to Mastering Ring Stacking and Creating Unique Jewelry Combinations
The practice of wearing stacked rings is nothing new. People have been stacking rings since the days of their ancient civilizations, and they're still popular today. In fact, they're in such high demand that several companies have started to capitalize on this growing trend – leading to the creation of wholesale ring sets  and even making wedding sets available in bulk

Ring stacking is a way to show off different rings together in one space on your finger.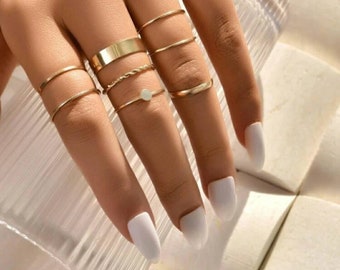 Start by choosing a single ring.

 

Create a unique style with stackable rings in silver, gold, or platinum to personalize your own ring stack.

Ring stacks are similar to the contemporary insert but allow for the exchange of several rings.

Beware of rings that don't stack well.

Grunge can be exhibited by mixing the metal colors of your rings. Rocking contrasting colors is key when combining metals.

Keep at least one finger bare while wearing rings on up to four fingers at once.

There's no shortage of fashionable options to reflect your personality and style in bands.
 Have fun with it! Mixing metals is okay.
 A ring stack is just that, a stack of several rings worn together simultaneously on the same finger. Wedding ring sets are one of the most common ring stacks you'll see, but matrimony isn't the only reason to start stacking rings. Anyone can wear their favorite rings together in a stack. Typically, this style is built by wearing two or more stacking rings at the same time.
 You probably think of wedding bands when you hear the word "ring stack," but it can be used for any type of ring: engagement rings, anniversary bands, etc. There are many different styles of stacking rings and each one has its own advantages. The most common style is known as "double-stackers" and it consists of wearing two or more different types of rings together on a single finger.
 Ring stacking has become so popular that many stores offer special classes where they teach you how to build your own ring stack! It's an easy way to add some flair to your wardrobe while also showing off your individual style.
1.Trendy and Modern Ring Stacking Styles
Ring stacks have been popular for years, and several designers have produced designs that are ideal for layering for a finished effect. A number of celebrities have adopted the trend of stacking rings, including Jennifer Lopez, Jennifer Garner, Gwyneth Paltrow, Lauren Conrad, Meghan Markle, and Jennifer Lopez.
 This frequently maximalist jewelry look provides a ton of flexibility when it comes to occasionally switching up the appearance. Depending on the parts you choose to include in your stack of rings, it may also be surprisingly economical. A ring stack offers a ton of long-lasting fashion appeal.
 it may fit slightly more snugly than thinner bands on their own when layered to cover a larger portion of your finger. This just means that sometimes a thicker band or group of bands can fit fingers more tightly, not that your fingers have changed sizes. We advise scaling up a quarter of a size for rings in stacks that are 5–6 mm broad or even a full size for stacks that are above 7 mm wide because of this.
2.Choose a metal color.

If you're assembling a stack and are unsure where to begin, pick the metal and color that go with your style. In platinum, rose gold, white gold, or yellow gold, we offer stackable rings. Stacks of gold rings are among the most popular possibilities, but you should pick the metal that best suits your unique taste.
Choosing a monochromatic metal is an excellent approach to start ring stacking for people who are new to the style. Creating a stack out of one metal enables you to wear a beautiful ensemble without worrying about the pieces not matching. Yet if you do want to purposely mismatch, walking to the ring in your own fashion might be entertaining.
3.Experiment with various textures, gems, and colors
Each ring in your stack should have a different texture, gemstone, or design element to make it stand out while yet being cohesive. Think about stacking an emerald ring, a 2mm plain metal ring, and a braided band as an example. This style of stack adds gemstones for additional color contrast and three distinct aesthetic textures.
Consider putting different metal colors together for even greater contrast. Just be sure to select rings with the same fineness so they complement one another and can be worn for a long time. In current fashion trends, this entails stacking 14k gold rings in various colors, such as rose gold and yellow gold.
There is no wrong way to stack your rings as long as you select combinations of styles that you feel comfortable wearing.
4. Be Unique
You can make your ring stack as unique and significant as you like. While some people treat their stack like a charm bracelet, adding new rings to celebrate important occasions, others opt to develop a stack solely for fashion reasons. There is no standard for how personalized your stack of rings should be; personalize it to the extent that you are comfortable.
There are several chic possibilities if you want to customize your stack. Rings with birthstones are frequently added to stacks. These rings can honor a birthday or the month of a significant event. You might also think of including an inscribed ring or a cocktail ring as the stack's focal point.
5. Explore All Possibilities 
It's time to expand out if you want to elevate the look now that you've decided on your metal style and any bespoke pieces for your stack. This may entail including a midi ring or extending the stack motif to other fingers. Wearing additional platinum, white gold, yellow gold, or rose gold rings to compliment your stack will complete your style.
6. Build the Stack at Your Pace
Although you might be eager to wear your ring stack all at once, if you're on a tight budget or hoping to don a commemorative stack, you can develop the look gradually. Stack your rings at your own pace to create the ideal ensemble all at once or gradually.
Matching Rings with Your Clothes 
Any clothing can seem chic by adding stacks of rings to it. Choose a faux ring stack that has already done the matching for you, like this kind that features a different gemstone on each row, to get started with the appearance.
Which Finger Works Best for Ring Stacking?
Wedding ring stacking styles like a pear-shaped engagement ring stack or a three-ring stack are most common on the ring finger. Any finger can wear a chic ring stack when it comes to fashion rings. There is no definitive rule for how many rings should be worn on each finger, as there is with all jewelry. It all comes down to finding a look that expresses your personal flair.
The ideal number of rings to stack is?
For this unique jewelry appearance, you can combine and match as many rings as you wish. Usually individuals start by stacking just two rings, then decide whether they like the look after that. Building a stack of three rings is also quite popular because it allows for more shine. The amount of rings you feel at ease wearing is the ideal number. The majority of people concentrate on ring stacks at the base of their fingers, selecting the amount of rings that will comfortably rest below the knuckle.
Ring stacking: Is it harmful?
If your outfit is well-planned, stacking rings won't harm them. It is preferable to stack rings of the same fineness and metal type to preserve the quality of your rings. It is ideal to stack 14k yellow gold rings with other 14k gold pieces, even if they are different colors of gold. If you decide to stack your platinum rings, only stack platinum rings. Maintaining uniformity in your stack's metal type and carat will help to keep the rings safe.
How to Handle Ring Stack Gaps?
Keep gaps in mind as you combine rings to wear for this fashionable jewelry statement. Some rings will purposefully leave gaps, like this split bar design. Every stacked ring look can benefit from gaps, especially if there are only one or two of them. But, if you want to keep your style consistent, choose rings with the same shape throughout, such as plain bands devoid of any curves. Even with meticulous planning, there may still be a few gaps. To address the gaps, you may add a thin band to the stack.
CONCLUSION
There are no strict guidelines for how to begin stacking when sporting this stylish appearance. Nonetheless, we advise picking one element to create consistency among the rings you're wearing in order to make matching between the pieces of your stacked rings easier. This can be as easy as choosing rings made of the same metal or selecting gemstones that have similar visual attributes, such selecting vivid gems of the same hue, or it can be as complex as choosing the same sort of gemstone for each ring. You have the freedom to mix and match as you experiment with various styles, textures, and ring widths to create a stack that is uniquely yours because there is only one piece holding the rings together.
---